The supply chain never sleeps. The robot will not.

The mobile robot passes the material flow rate between the fulfillment workstation and the manufacturing process. They reduce picking errors and increase throughput. They help to consolidate storage space and future-oriented operations. Robots offset rising labor costs and shortages. They improve ergonomics and make better use of your skilled workforce. Robot mobility leads to traceability and predictability, and you are on the road to Industry 4.0. Your path to an always-on supply chain.

The "2016" MHI "Industry Report of the Year" shows the emergence of "Digital, Sustainable Supply Chain", with nearly 900 industry executives interviewed. The study found that 51% of respondents believe that robotics and automation have competitive or destructive technologies. At the same time, 58% believe that hiring and retaining skilled labor to implement these technologies is a major obstacle. Suppliers need reliable, cost-effective plug-and-play solutions. Many new robot startups and established players are delivering goods.

Rack robot, Amazon effect
When Amazon acquired Kiva Systems in 2012, they gained a competitive edge in robotics. The patent application preserves the technology in Amazon's court in the United States. But in Europe, the CarryPick? system works in a similar way.

The modular CarryPick cargo-to-human system uses a low-profile robotic vehicle (AGV guided by a QR code on the floor) to drive the underlying moving rack and transfer it to the workstation. From there, the staff placed the required items in the shipping box. See the Swedish-based global logistics company DB Schenker's CarryPick system.

The AGV operator used in the CarryPick system was the result of a joint development between Swisslog and the German company Grenzebach. The Indian startup GreyOrange has a similar system with a series of "Butler" robots that transport cargo to the manned station.

Automated mobile robots transport materials throughout the warehouse without the need for special infrastructure. (Provided by OTTO Motors) Some say that Amazon's acquisition of Kiva restores the industry by eliminating advanced technology from the market, while others believe that this initiative may actually inspire more innovation. The array of automation technologies for your plant, warehouse and distribution center (DC) internal logistics competition has multiplied.

Self-driving, AMR
Today, robots are cheaper and easier to use. The current adoption rate is 35%. According to MHI, the robot and automation adoption rate is expected to rise to 74% in 6 to 10 years. For many DCs and manufacturers, simply finding enough employees is a major challenge and one of the main drivers for robot deployment.

?????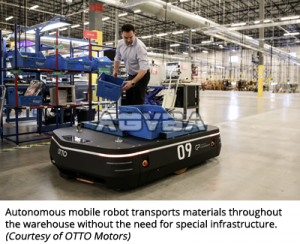 OTTO Motors
"The main driver for our customers is the labor shortage. Simon Drexler, Director of Industrial Solutions at OTTO Motors in Kitchener, Ontario, Canada, said: "We have some customers who believe that hiring and retaining enough people to run their equipment and support their growth is Very difficult. OTTO Motors, which is different from Uber's recently acquired Otto, is the industrial division of Clearpath Robotics. The Canadian startup was founded in 2009 by graduates of the University of Waterloo's Mechatronics Engineering Program, including recently appointed RIA Board member Matt Rendall.
Although Clearpath is known for its researchers' unmanned vehicles, including the award-winning Husky, Grizzly and Kingfisher robots, Otto's automotive division focuses on self-driving cars in manufacturing and warehouse spaces.
Sometimes referred to as self-driving, commonly referred to as AMR, all robots in this space have some common features, although their form factor and payload capacity vary widely. Self-driving or autonomous mobile robots (AMR) are often different from automatic guided vehicles (AGVs).
Traditional AGVs typically require some type of existing infrastructure or facility modification, whether they are magnetic strips embedded in the floor or navigation beacons to direct the vehicle on a specified path. They work very well in a predictable environment.
Drexler said: "If you always move the material directly from point A to point B, these points never change, and the path between these points will never change, then AGV is a good platform. "But this environment applies to a small portion of the material transportation market."
In contrast, self-driving (SDV) or AMR can navigate like the GPS in your car. SDV navigates based on maps in its robotic brain and avoids and guides unexpected obstacles by using various sensors. It automatically determines the best route or path from point A to point B with real-time intelligence.
"One of the challenges our customers have with traditional AGV technology is that each time they need to change their equipment, so their AGV system, this is a painful process," Drexler said. "You have to change the track, then you have to change the program. Usually, the AGV system starts again the week before. With SDV technology and the built-in intelligence of these vehicles, you can change it with a click of a button. You can reduce the week by 10 minutes. s hard work."
SDV allows for changes and flexibility in building layout, new mechanical installations and increased facilities.
Dr. Self-driving can automate new applications because they provide flexibility in an industrial environment. "By navigating without the need for any infrastructure, the solution can evolve and change with your organization. "
Meet OTTO
Launched in September 2015, OTTO is an autonomous mobile platform designed for material handling in industrial centers. Some specific applications include line delivery at the manufacturing center as well as storage and retrieval systems within the warehouse. It comes in two sizes, a payload of 1500 kg (pictured) and a smaller 100 kg payload model.
OTTO uses LIDAR sensors for navigation. The larger OTTO 1500 has front and rear sensors, while the OTTO 100 has a single laser scanner on the front. The center differential drive wheel helps the OTTO operate in tight spaces and around the corners, saving the floor space required. Passive suspension in large load models helps protect the load.
"You can configure OTTO to accommodate a variety of different use cases," Drexler said. "This is one of the features of the platform. The equipment or configuration at the top of the OTTO can be in the form of a storage box, pallet, shelving unit or conveyor roof.
Manufacturers are deploying mobile robots, transporting parts to assembly lines, transporting work in progress (WIP), and managing material handling in warehouses. The team Otto will deploy the technical equipment in the GE Healthcare Group to automate the delivery of parts just in time. The robot fleet will load and ship the parts to the work unit for repair. Upon completion, OTTO will dispatch the recovered parts back to the customer. Agricultural equipment manufacturer John Deere also plans to deploy OTTO vehicles for assembly line transportation at production facilities in Horicon, Wisconsin.
Prepare for the industry 4.0
The secret of these self-driving autonomous navigation is software. We learned that the sensor made the robot feel it. This is the algorithm that makes them smart.
"The software is the most important component in the system," Drexler said. "This is the wisdom of self-driving cars."
He described OTTO's three main software platforms: "You have the core, the Clearpath operating system, which is the brain of the car. You have a fleet manager, tell the vehicle what to do then you have the Clearpath app, it is the system status update and the key User interface for performance indicators."
Drexler said that mobile robots like OTTO have already implemented Industry 4.0. Intelligent robots lead to a smart factory.
"When you control the flow of material in your equipment, you have access to almost 100% of your critical operational data. Industry 4.0 is about the consumption and analysis of operational data. This is really a factor in driving device interconnection."
He offered a metaphor: "Imagine the manufacturing process. The manufacturing process is not important. It's a black box. I put the parts in, something happened, the parts came out. If I knew when to bring the material to the black box. When I picked it up from the back end, I knew what all my inventory was. I know the cycle time of the production unit. I know when and when it came down. I know how many units I produced and my quality rate. .
He said: "The OTTO system is a springboard to help people implement Industry 4.0 into their devices because it gives you access to almost all critical operational data," he continued. "OTTO is automating the inputs and outputs of these processes, so it is a major leap forward in shutting down the automation cycle in industrial centers. By turning off the automation cycle, you can get more traceability, more predictability and more Control process."
Intelligent robot, smart factory
Closing a large number of mobile robots through mature suppliers and new startups, ending the cycle and automated manufacturing processes as well as in and out of the distribution and material flow of the workstation.
Omron Adept Technologies offers the Lynx Auto Smart fleet to transport goods through warehouses, distribution centers and factories. Look at how two AIVs, called "Fred" and "Stella", help workers reduce the time it takes for this jewelry manufacturer to perform.
According to "The Life of Robots and Healthcare", Aethon has TUG robots in more than 125 hospitals. Now they are entering the factory. Watch the manufacture of TUG autonomous mobile robots.
Vecna ??Inc. offers a variety of autonomous mobile robots with a variety of payloads and configurations for healthcare and warehouses. All of this is designed to run safely between their colleagues without the need for facility modifications. Watching them move.
Founders Fetch Robotics Inc. and Locus Robotics also offer mobile robots for warehouses. Learn more about acquisition and transportation solutions in this service robot case study report for Silicon Valley robots. Watch the action of the Locus robot here.
The founder of another robot veteran at the helm is moving into interior space.
Meet MiR
After working for 2 years as a researcher at the University of Southern Denmark, Niels Jul Jacobsen founded the Mobile Industrial Robot (MiR) in May 2013 and the Danish cooperative robot manufacturer Universal Robots A / S, acquired by Teradyne in 2015, and One of the key players behind the creation of the technology cluster Odense Robotics. Thomas Visti, CEO of General Robotics Research Alumni, is one of MiR's private investors. The startup is headquartered in Odense, Denmark.
The MiR100 autonomous mobile robot has a payload of 100 kg and can run for 10-15 hours on a single charge depending on the load. With the exclusive option, the MiR100 Hook (picture) can be used for trailers up to 300 kg and can be fully automated for pick-up and delivery in any configuration.
Watch the MiR100 Hook at Arla Foods, Denmark's largest dairy company.
"When you are a large company with hundreds of four-wheeled carts, you don't want to modify them, the "hook" option is a good way to grab the shopping cart and drag it," another love horse "Universal Robot Alum" And vice president of sales – American Mobile Industrial Robotics Inc. in Stony Brook, New York.
Mullen is responsible for establishing a MiR distributor network in North America. A number of dealers have been signed, including more dealers. MiR will open an office in New York this summer for inventory robots and parts, as well as training and support for dealers and end users.
Mullen said: "The price is below US$300,000 in North America. Malaysia pointed out that this is only for the MiR autonomous mobile platform. "That is why we enter the market through talented industrial automation dealers, these dealers can add value to the robot, we Call it a top-level module. These top-level modules can be the dimensions of a shelf, a box or a set of drawers. Or it can be a six-axis robotic arm or conveyor.
The automated mobile robot pulls a heavy-duty truck filled with milk cartons through the warehouse for ordering. (provided by Mobile Industrial Robots A / S) Mullen continued: "Whether it is transporting drawers or boxes, components, or even food, it is an endless application." "I have contacted the airport, hoping for automatic wheelchairs. Doors. Hotels, hospitals, logistics centers, laboratories, automobiles, aerospace manufacturing, etc. have been contacted. The electronics industry has great potential.
He encouraged people to look at what happened to their facilities from the perspective of material transfer.
"Think about how much time is when people move their products. If the building is big enough, it takes 3 hours a day to move parts in an 8-hour shift, and you can see that the robot makes sense."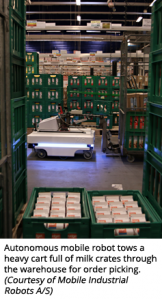 Intelligent navigation
MiR's patented technology relies on two laser scanners, 360-degree field of view. It also has 8 ultrasonic sensors and a 3D depth-sensing camera (similar to the Microsoft Kinect sensor) to aid navigation. Gyroscopes help to orient the vehicle, especially on sloping or uneven surfaces. "The difficulty with these vehicles entering the factory is that the environment is always changing. You always have forklifts, boxes and machines moving around," Mullen said. "Now AMRs have always been a challenge because they are unable to navigate successfully every day without encountering unsolvable obstacles. Our technology can be operated by deploying multiple sensory input methods, enabling us to make good progress in real-time dynamic environments. Decision."
The onboard Linux-based PC runs all of these decision algorithms. The warehouse or factory 2D layout can be uploaded as a STEP or CAD file. Mullen said that you can put this file on a USB flash drive and load it into the robot.
Mobile robots can also "learn" the environment that will be handled by surrounding your facility.
"The laser scanner on the robot will build walls, channels and machinery and create your own map inside the robot," Mullen said. "Once a robot has a map, you can teach its starting point and falling point, then it will look at the maps and find out the best way between the two points. Now if things hinder the road, then it will know Go to and reroute, in a different way to achieve this drop point."
This picture case study shows that the MiR100 works on a 10,000 square meter Scan A / S production facility, which is a manufacturer of wood and gas cooker fireplaces.
Mullen said that MiR has more than 100 robots in its European plants, including global manufacturers Leoni, Flextronics and the mainland. With the recent launch in North America in April, MiR expects to sell 150 to 200 mobile robots in 2016.
"I have shown robots in dozens of facilities," Mullen said. "I can have a map of a typical warehouse filled with points taught in 15 minutes. Even people without robot experience can open his iPhone, connect to the robot, and start creating maps and points.
"We have a fleet package, the quarterback all the robots used in the facility. It knows where they are, what robots are in the best position, based on what missions appear in the fleet package. It monitors the battery and directly The robot is charging to the dock."
Like other autonomous mobile robots, the MiR system is ready for Industry 4.0 and the interconnected supply chain.
Mullen said: "The team is wrapped in the company's LAN. "We can collect data from bar codes, QR codes or sensory inputs. We can import all of this data and make the fleet system make decisions based on this data. "
For example, when the inventory level goes low to keep the production line running, the robot can be automatically scheduled.
Safe man-machine
Another feature of interactive collaboration between self-driving cars and AMR is the ability to work safely with people. Mobile collaborative robots are very similar to all different forms of fixed collaborative robots, designed to work with human colleagues, in this case sharing walkways and passages, avoiding oncoming traffic, and working around working machines and busy operators. Manipulation.
Mullen said that MiR is proud to be an "extremely safe robot."
"We use two SICK safety laser scanners, yellow. Use SICK safety relays to feed data back to SICK PLC. We actually meet the Class 4 performance level e-safety system or EN 1525. This is written for mobile robots. specification.
Automated mobile robots are already in the logistics space longer than you might realize. A small number of densely populated areas and higher labor costs may explain why European countries have been developing in the field of mobile robots for more than a decade.
A large number of mobile robots retrieve and send cargo boxes to operators at the clothing retailer's distribution center. (provided by Bastian Solutions, LLC) robot operator, cargo to person
These autonomous mobile robots look very different from the previous batch of warehouse runners. These robot carriers work in a compact group. The intensification of the efficiency of these robots is not as free as before, but they definitely exceed them.
The AutoStore system from the Norwegian company Hatteland is used and sold through international distributors and logistics automation integrators such as Bastian Solutions and Swisslog. Typically, as many as 60 or 80 of these transport robots work together, but instead retrieve the storage bins separately and transport the goods through the overhead grid system to the manned picking station.
The compact and modular AutoStore system saves considerable floor space, increases order fulfillment efficiency, and easily scales up or down as demand changes.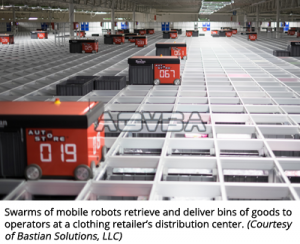 AutoStore
This image shows how the AutoStore system works. Kirt Laeske, product manager at Swisslog AG's Robotic Solutions in Buchs, Switzerland, said: "The biggest difference is that each AutoStore robot can send each bin to each station." This makes AutoStore more flexible," he added. Robot operators compare traditional warehouse technologies (such as stacker cranes) to confining cranes to defined aisles.
Swisslog is part of the KUKA AG and the sister department KUKA Robot. As a single source supplier, Swisslog builds warehouses and distribution centers for the retail, automotive, pharmaceutical and food and beverage industries. In addition to integrating conventional industrial robots into distribution centers, Swisslog also integrates various types of mobile robots, including the AutoStore system, into custom warehouse and order fulfillment solutions.
Laeske said: "In a big DC, you usually have 80 to 120 workers per shift. "A large part of our solution's decision-making process is first of all investment, but running costs. If they can help robotic solutions to reduce staff, they only need 40 to 60 instead of 80 to 120 workers, which has a big impact on the operating costs of DCs over 10 years. This is what our customers are looking for. "
Swisslog installed the AutoStore system for Asda Logistics Services in 2013. Asda is one of the UK's largest retailers and part of the Wal-Mart Group. As the largest AutoStore installation in the region, the system integrates over 70,000 storage boxes and 164 robots.
This image shows a time-lapse footage of a seven-week installation process and completed solution at the Asda Distribution Center in Leicestershire, England.
Group effect
For these robots to work together but separate work, at any given time, the system can determine which robot is in the best position to retrieve the next bin in the order. Downtime is almost eliminated, because if a person gets stuck or needs to charge their battery, there will always be another robot. Battery charging is also autonomous.
Again, this autonomy comes from sophisticated fleet management software.
Joe Zoghzoghy, mobile robots manager at Bastian Solutions LLC, explains: "Seeing it as two brains", global material handling and robotics system integrator, located in Indianapolis, Indiana. "A brain is controlling all the robots, each with a small brain that travels back and forth. Autonomy comes from the larger brain, the master control or warehouse management system, that is, coordinated action (between each robotic transport). Then you have smaller brains on vehicles that handle low-level controls, such as driving and navigation."
This is the group effect we mentioned earlier. Smaller mobile robots coordinate with each other to accomplish certain tasks with larger brains.
The robotic vehicle provides products to the operator at the order fulfillment center of the clothing electronics retailer. (Provided by Bastian Solutions, LLC) Perfect's PerfectPick? merchandise on the human system in New Jersey demonstrates a similar group effect. The robotic transport called iBOT works in a like-minded manner, transporting the cargo boxes to the passenger order fulfillment station (pictured).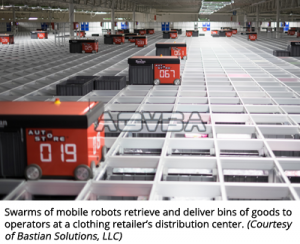 iBOT robot
The picture shows the perfect choice for iBOT at BHFO, one of the largest retail and apparel sellers on eBay. BHFO needs an order fulfillment system that can keep up with more and more daily auctions. Bastian solutions come to the rescue. The manual order fulfillment process has been replaced with an automated system that consolidates storage space, increases throughput, and reduces procurement errors. According to Derek Cribley, senior technical director of Bastian, each has its own advantages and advantages with a variety of automated robotic operator systems on the market. Standards range from different transfer rates and payload capacities to different storage densities. Bastian works with clients to select the best technology for their specific solution. He said that the latest generation of robotic transport vehicle systems offers more flexibility and efficiency.
Kriley said: "The SERVUS system is an Austrian company. "They have installed 15 to 20 systems in Europe. We are implementing the first two systems into the US market. The SERVUS system is the first system I have seen that can work inside and outside the channel. Not only does it have automated storage retrieval capabilities, but it can also replace other technologies, such as conveyor systems or transfer vehicles, to bring products to work areas more directly. "
At the heart of the SERVUS system is the ARC or autonomous robot operator, which, unlike other cluster robot systems, can leave the tunnel along curved tracks around the warehouse facility. It can even be equipped with an onboard robotic arm for picking items in flight. Check out this video and the lightweight SCHUNK Powerball arm.
Kriley is very interested in this idea. "It can work while running. You can really reduce your cycle time."
Bastian is pushing this idea a step further and incorporating the six-axis industrial robotic arm into the prototype work on a high-payload mobile robot. More information about this next generation solution.
The robotic transport system provides the cargo box to the collaborative robot for efficient project selection and order fulfillment. (provided by Swisslog AG) robot-assisted AIP
The new internal logistics solution provides industrial robots for humans, enabling direct cooperation between people and machines without the need for a safety fence. Automatic Item Selection (AIP) combines Swisslog's automated cargo-to-person warehouse systems (such as CarryPick and AutoStore) with robot picking stations to assist personnel in picking tasks. The robot pick-up is carried out by a KUKA LBR iiwa robot arm (as shown) mounted on a manual platform (flexFELLOW) and manually moved to the picking table.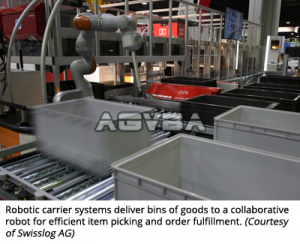 Industrial robot
Swisslog's Laeske said: "We've integrated everything into one workstation, and we can put it in an existing manual collection workstation." "Put this in a place where someone is standing to help him do his job." The process begins with the robotic vehicle retrieving the trash can and delivering it to the picking station. Each bin has three or four compartments containing different items. The visually guided robotic arm finds the correct item, takes it out of the box, and places it in the designated area for further processing by the human selector. As we found in the Holy Grail, robot picking technology has come a long way.
Laeske said: "Usually we are dealing with 10 to 100,000 different SKUs. "Vision must be smart to detect items that have not been taught before. Now we are testing a fixture that can select and place various SKUs. "
He said the system uses a combination of 2D vision and 3D scanning. But the real "magic" is in the robot arm. The KUKA LBR iiwa lightweight robot with kinematically redundant 7-axis arms offers outstanding flexibility, is designed for compact spaces and is closely linked to its personnel. The LBR has a torque sensor on all seven connectors, making it very sensitive.
Laeske said: "It actually feels that it touched something," he explained, helping the robot find items in the trash and safely working side by side with human colleagues. "If a fault occurs, the worker can touch the robot, move it manually, make corrections, touch it again, and the robot will continue to work. LBR iiwa opens up a new interface between the person and the machine."
Laeske said: "We have not developed these robotic solutions to sell robots, whether it is automated item selection or carrying robots or robot handling. "We are creating these solutions because we want to make our internal management solve by adding robots. The program is better and more competitive. "
This is not far from the way Amazon enters the robot world. And they are not the only big players to make strategic robot acquisitions in this fast-moving logistics space. This is a startup company.
Swift launches Swift
The mobile pick-up robot combines an autonomous mobile vehicle with a vision-guided robotic arm in an integrated system. This is the brainchild of IAM Robotics.
Founded in 2012, IAM Robotics is headquartered in Pittsburgh, PA, and combines three research engineers at Carnegie Mellon University. Founder and CEO Tom Galluzzo, hardware director Vladimir Altman and chief software architect Ricky Houghton bring mobile picking to life.
Galluzzo said: "Even before the CMU, I worked on autonomous ground vehicles and driverless cars, and had a lot of experience in autonomous navigation. "But at CMU, we have to carry out a defense department project to do autonomous operations. We are amazed at how much work we can do, especially when picking up objects and moving them. "
The entrepreneur is looking for low-end fruits in the industry and he can find autonomous applications. The startup began its extensive market research in the first year.
"We talked to many executives in the industry and got a lot of verification. Everyone said, "Yes, we wanted this product yesterday! "
"This is our five-year dream, but the industry has been dreaming for decades, putting robotic arms on mobile AGVs and letting them do useful daily work in the distribution center. Now here."
The mobile picking robot extracts items from the warehouse shelves and places them in the warehouse for order execution. (Thanks to IAM Robotics) Comet Labs, a smart machine and robotic accelerator from Silicon Valley, further verified the VC investment. Still in the seed financing phase, IAM Robotics is accepting pilot program customers and launching a preliminary beta deployment. They have a preferred partner program that provides additional incentives for early adopters.
"We have a rental partner who is working with us to provide our clients with case-based robot financing. This makes the return on investment very fast, especially when you build robots that work as fast as individuals.
Galluzzo said: "Our first customer is Rochester Pharmaceuticals Partnership (RDC), so we will actually deploy the system to a pharmaceutical factory this summer.
The video shows a prototype version of the Swift robot before the latest iteration of mobile vehicles and robotic manipulators. RDC's customers commented on the benefits of the system. Other potential applications include health and beauty, warehouse distribution and order fulfillment in the grocery and e-commerce markets.
IAM Robotics' patent-pending technology uses a depth-sensing camera for navigation. For operability, it uses two center drive wheels and an outer caster, all of which are covered for safety. It has a pluggable rechargeable battery that lasts about 10 hours, so the system can run around the clock by simply swapping used batteries for fully charged batteries. The onboard HMI display shows battery charge warnings, as well as other critical status elements.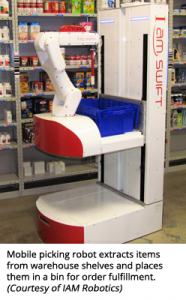 Collaborative mobile picking robot
The robotic manipulator is a FANUC LR Mate 200iD six-axis arm guided by the same visual technology as the mobile base. Swift uses the same depth-sensing camera to check the surrounding environment to avoid collisions. Both the moving base and the robot arm slow down and stop if someone or other obstacles that impede their safe movement are felt. The system relies on a patent-pending 3D product scanner called Flash, also created by IAM Robotics, which records the barcode, product size, weight and 3D features of the items used for picking. Picking robots must first "learn" the look of each project and how to master it. It then uses onboard software called RapidVision to enable Swift to identify the project it is trying to select.
Galluzzo said: "The power and capabilities of the system are autonomous and software-driven." The system is actually connected to remote tablets and mobile devices so that it can send data to these devices and let people know that they need help.
He added: "We have not completely removed people from the environment." "We just want to keep the time between human intervention to a minimum."
The shelves must also be stored in a fairly organized manner so that the robot can safely grasp the items.
"We split the conquest warehouse," Galluzzo said. "We look for warehouses that are compatible with robots and have a high percentage of inventory. Some of us do what they are good at, this is dealing with deformable items, such as clothing, we have robots to do what they are good at, this is to pick rigid boxes and bottles.
"The advantage of ergonomics is the key to our customers' minds in this market. As the development of e-commerce is exponentially growing, there are not enough people to do this work. Because the robots are doing all the upgrades, so the work is even more It's easy. It's bending down and reaching a high point, which has been doing this all the time. Now a person is upgrading to more than just a selector, but a robotic supervisor."
Again, prepare for Industry 4.0.
Galluzzo said: "By enabling machines to function essentially as data collectors, connecting devices to work in manufacturing and distribution facilities, you now have unprecedented ability to collect and manage data. When you are just walking around, you don't have the data." Now we can almost turn the entire facility into a video game style command and control center. Instead of spending 5 to 10 minutes walking through my facility to see if there is something on the shelf, I can pull a photo from the world's live robot view. "
When we went to the press, IEEE Spectrum people gave IAM Robotics a hearty nod and more videos. Look here.
The Munich-based startup Magazino has a mobile picking robot called TORU that aims to share the same channel with its colleagues while picking everything from storage. Learn more about the founder's vision and watch the video here.
Heavy load mobile robot
This is a new look at warehouse logistics and order fulfillment. A new type of free-roaming mobile manipulator will be able to pick and transport a range of sizes and payloads. We have seen more of these autonomous mobile manipulators in the wild.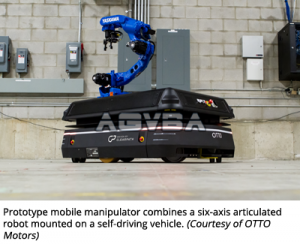 OTTO Motor Corporation and Japanese robot manufacturer Yaskawa Motoman jointly launched research and development work to combine the larger OTTO 1500 mobile vehicle with the vehicle six-axis robot. Work demonstration turned to the studio
The prototype mobile robot combines a six-axis articulated robot mounted on a bicycle. (Provided by OTTO Motors) In June, Automatica, OTTO Motor Company and Japanese robot manufacturer Yaskawa Motoman jointly launched research and development work, combining the larger OTTO 1500 mobile vehicle with the vehicle six-axis robot. The work presentation turned to the studio. At the same time, Bastian Solutions is working with the Southwest Research Institute (SwRI) to develop its own mobile manipulator brand. Joo Zoghzoghy said the technology is finally mature enough to build these systems. At the same time, the demand for mobile manipulators is rising because of the faster cycle times and higher throughput competition between distribution and implementation centers.
That's why Bastian Solutions created the mobile robotics division and hired Zoghzoghy to lead the work. He said they hope to pilot these six-axis mobile manipulators by the end of the year.
Zoghzoghy said: "The difference between these systems and other mobile robots and shuttle systems is that they can fill multiple orders at once. "We built an (autonomous) AGV system. The arm obtained from the robot supplier. Everything else on board is designed by myself. "
He said the system is running on ROS open source software, and Bastian is working closely with SwRI's ROS developers. The advantages of open source software platforms mean greater design change flexibility.
"If we need to use different arms for any reason, then we need a bigger robot, or a customer who likes a robot manufacturer, we can do without software development," Zoghzoghy said. ROS gives us modularity in a sense, so we can use any type of mechanical, electrical or electronic system and integrate it into our solution.
Zoghzoghy and his colleagues learned about their mobile manipulator concepts and working prototypes in an informative webinar at MODEX in April. Look here.
Zoghzoghy said: "The key term in the past has always been goods-to-human." We believe that the next logical step is to move the robot (manipulator) toward the commodity, just like a person does. "
We have come a long way from manual selection to advanced cargo-to-person mobile solutions. Now with the dawn of "robots arriving," the face of internal physics is changing before our eyes. As more and more manufacturers, DCs and e-tailers upgrade their automation to an always-on supply chain, we expect to see group effects keep pace with free-roaming mobile robots.